OYEZ! OYEZ! OYEZ! CRYER WINS CNC TITLE
The BARC North Western Centre's CNC Heads Sports/Saloon Championship, an integral part of motorsport in this region, had a very popular winner of its 2020 title in the shape of Jamie Cryer who has been a stalwart of the series for the past decade.
Taking the crown was a very special feeling for Jamie as he believed the accolade was as much for all the family and friends who support his on-track endeavours as it was an honour for himself. His father, Kevin, competed in the championship from 2003 to 2017 and so has a wealth of knowledge to pass on to Jamie – they are a Dad & Lad Team in the truest sense of the term. They do most of the preparations themselves on Jamie's racing car – a Ginetta G20 which runs in Class E of the CNC Heads-supported Championship – with the help of a few close friends and people they have known for years. Jamie's mum and fiancé are also heavily involved.
The overall CNC title is decided by who has scored the most points in each of the 6 individual classes. Following the Covid-induced delay to the start of the series, the action got under-way with the first of 4 Double Header meetings at Cadwell Park in July. In race 1, Cryer inherited the Class E laurels when a plug lead came adrift on Ollie Allen's engine although Jamie believed he would have overtaken the Fiesta driver before the finish anyway. Allen then crashed at the start of round 2 following contact with another competitor.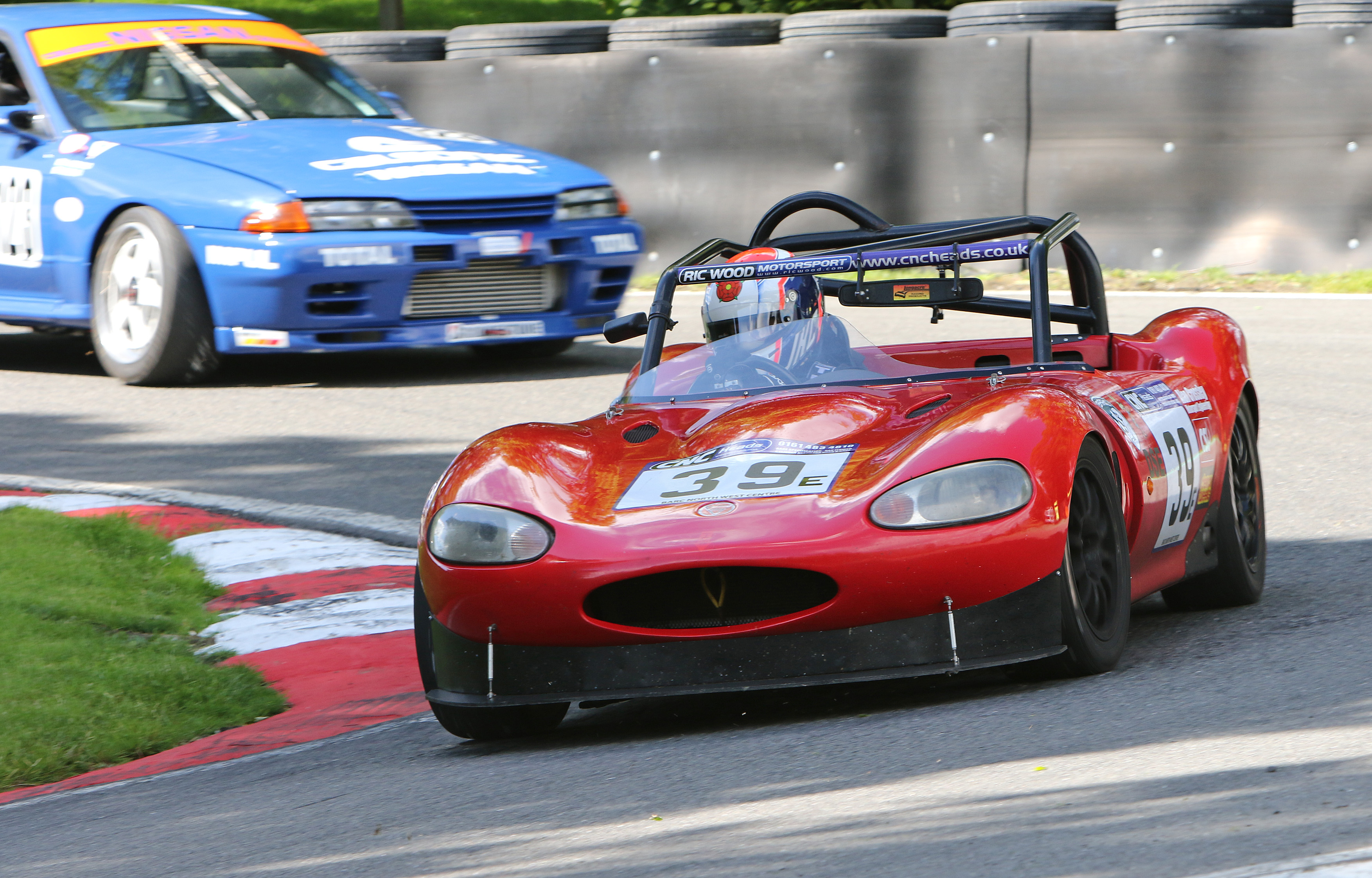 Jamie at this season delayed opening round at Cadwell Park (Graham Holbon)
Cryer recorded further maximum points hauls at Donington Park and Oulton before the series returned to its home track in Cheshire for the finale at the end of October where Jamie was only too well aware of how close he was to the overall title which he had missed out on by just 4 points in 2018 when he was winner of Class E. Conditions were very wet for qualifying so Cryer decided to take a cautious approach and look after his car which, like its driver, is not at its happiest in the rain. The weather hadn't improved much when race 1 got underway and, during the course of this particular contest, there was a twist to the story of the championship when Cryer spun at Cascades!
"(The spin) definitely added some pressure," recalls Cryer. However, more than anything, he felt frustration as he had been going so well in terrible conditions. Furthermore, Jamie was sorry that his run of 2020 Class E wins had come to an end but at least his worst score could be dropped. He says, "So, it was a case of being relieved to escape without damage and knowing exactly what I needed to do in the last race."
At the best of times, Cryer is a bundle of nervous energy before going out on to the race-track therefore, prior to the deciding round of the Championship, his anxiety levels were ramped up to the maximum.
There were no dramas in his final outing of the year however as, having been in the thick of a midfield battle, Jamie finished second in Class E – just behind Ben Griffiths' Honda Civic – which was all he needed to take the title. Cryer says, "Emotions were definitely running high when I crossed the line and knew I'd done enough. It would never have been possible without the support of so many people. It might not be F1 but it's just as special to us."
Kevin, Cryer's Dad, was a fan of motorsport long before Jamie was born thus he began taking his son to Oulton Park when he was very young and, even in those days at the start of the 1990s, they used to look forward to meetings featuring the BARC North Western Centre's Sports/Saloon Championship. At that time, it was sponsored by Lynton Trailers. The family's affinity with the series runs very deep. Indeed, Jamie still has all the Oulton Park programmes he collected during his childhood. His love of motorsport stretches beyond the club scene and embraces the WRC, MotoGP, Formula 1 – anything with wheels and an engine!
Once Cryer had completed university and got a job, he could afford to take up motor racing himself. It was inevitable that the category he selected to compete in was BARC(NW)'s Sports/Saloons. He began in 2010 with a Fiesta. Once he had learnt the ropes, he took the Ford to the Class F title in 2012. Having achieved that goal, he switched to a turbocharged Toyota MR2 but he never "got on" with that car and so the Ginetta was purchased.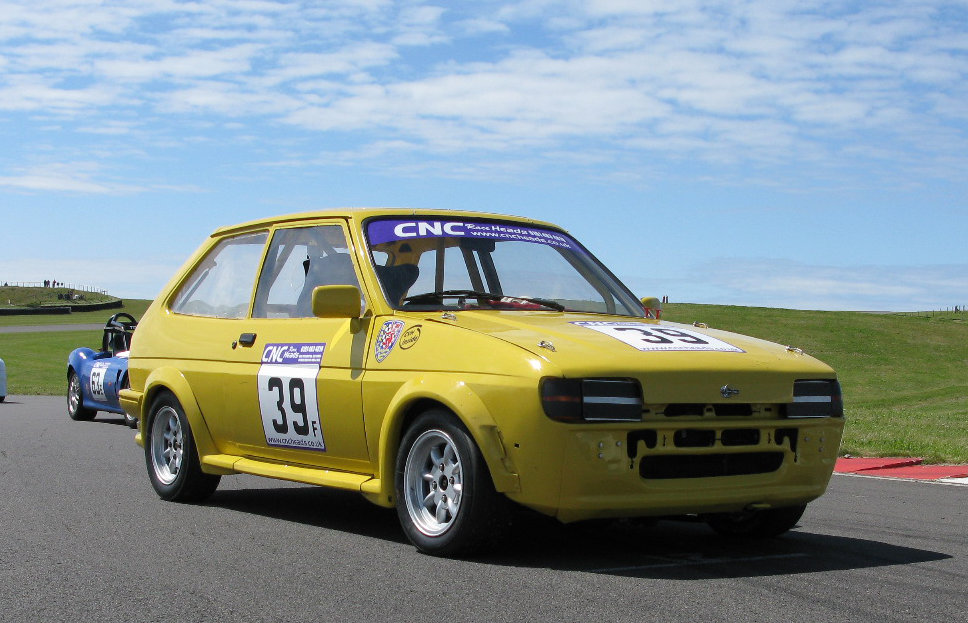 Jamie's first racing car a Ford Fiesta (Dawn Forbes)
The car was built in 2007 and, it is believed, was raced in the Ginetta G20 Challenge for one season before being hillclimbed by the previous owner. Jamie ran the car in standard specification for a few seasons before gradually developing it with a larger 2-litre engine, suspension tweaks and aerodynamic additions to the bodywork. Cryer takes great satisfaction from having made the car faster every year he has had it and the modifications for 2021 are already well underway – they could make it the fastest G20 in the UK!
The fitness level of the driver has also been optimised because away from the circuit, Jamie enjoys cross-country running and mountain biking – he loves to be outdoors!
Jamie and his Dad liked the Ginetta so much that in 2014 they obtained a second example for Kevin to compete in – he had been racing a Caterham in Sports/Saloons' Class B since 2003. With both Team Cryer drivers in the same model of car, it meant they were Class E rivals and often found themselves battling wheel to wheel on the track.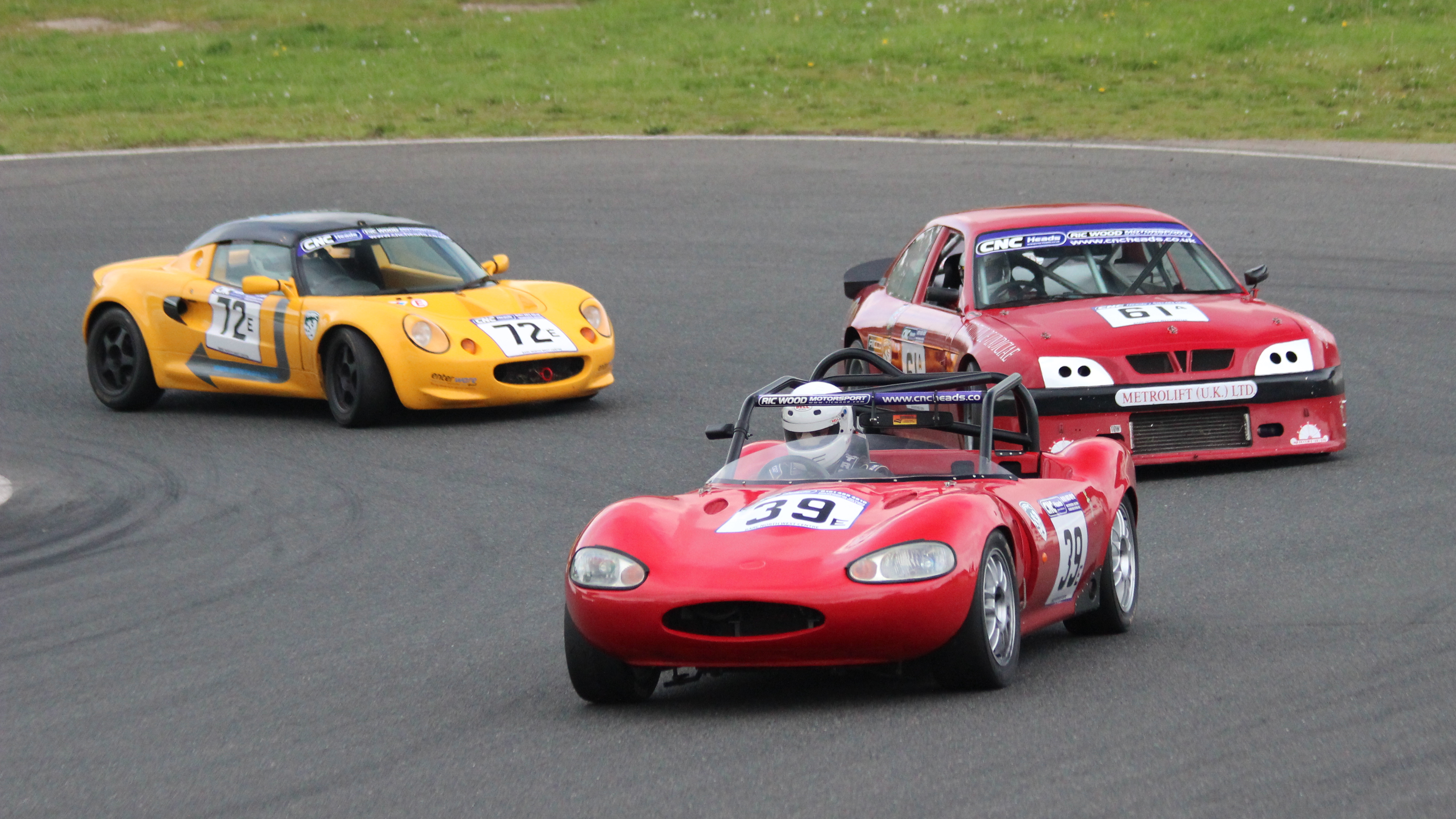 Jamie's Ginetta G20 at Mallory Park in 2015 (John Leck)
Kevin hung up his helmet at the end of 2017 leaving Jamie with marvellous memories of dicing with his Dad. The second Ginetta they bought has been kept as a spare chassis/parts donor.
The love the Cryer family have for the CNC Sports/Saloon Championship is clear for all to see and they have developed many long-term friendships amongst their fellow competitors. The respect is mutual as, to his complete surprise, Jamie was chosen as Driver of the Year in 2016 (which he describes as an amazing honour) and Team Cryer took the "Spirit of the Championship" accolade two years later.
Over the years Jamie has also got to know many of the people who regularly attend Oulton Park and Anglesey be they marshals, spectators, commentators or photographers. One of the most enjoyable things about clinching the championship at Oulton was waving to all his supporters on his slowing down lap.
Like all those who race in the CNC Heads Championship, Cryer is very keen to express his gratitude for the dedication of those in orange which allows him to race. He hopes they enjoy the show the series puts on.
He certainly plans to be part of the entertainment for some time as the Sports/Saloon paddock is like his extended family and he is sure that competing in any other category would not be as enjoyable.
Dave Williams