Background
The BARC (NW) Sports/Saloon began over thirty years ago in the era of the Wendy Wools Special Saloons and the STP Modified Sports Car championships. Back then these championships were starting to see a decline in interest of the less exotic machinery, interest was moving inexorably to the more exotic Super Saloons of such drivers as Gerry Marshall and Nick Whiting. Many examples of the less exotic machinery were destined for the garage or barn! The Centre was then experienced in running race meetings but wanted to spread its wings and run some Championships of its own rather than rely totally on HQ for race content. In 1983 a series of races were run for, what we called, Special GT Cars; basically anything that could be described as a saloon car, sports car or GT, in fact anything that had been discarded from the special saloons and sports car series. More about the history can be found elsewhere on this website but in summary the championship is much the same today as it was back in the 1980's. The over-riding principle is that any car designed originally for the road and modified in any way (almost!) will be eligible for the championship.
As time has progressed over the years the championship has had its ups and downs, though luckily the up years have significantly outnumbered the down years. Over these years the Championship Sub-Committee, which has overseen the championship, has had a few guiding principles that have been learnt and put into practice, these being :
Rules, particularly technical, should be as stable as possible - we have made some changes over the years but in the main these have been as a result of MSA dictated changes or to bring the championship in line with the current marketplace in terms of suitable cars.
We should endeavour to ensure that as many cars are eligible for the championship as possible - any car that was designed originally for the road should be eligible though we exclude cars of very limited numbers and also those with central seats. History has taught us that other championship have suffered from these types of cars.
Rewarding loyalty is paramount at all times - to us our regular driver is not to be forgotten over getting newcomers on board. We offer a reduced entry fee for the last round if eight starts have been made in the year, we give priority to regulars when the grid size is exceeded and we ensure that cars do not become ineligible through technical changes year on year (in rare cases MSA regulation changes may require cars to be updated).
Racing to be fun, competitive and non-contact at all times - at all events the guiding principle is to have fun, on and off the track. With the class structure we usually have competitive racing either with class competitors or from those in other classes and the contact is kept to a minimum - we are all amateurs and car damage is not acceptable.
Everyone with a suitable car is welcome - to us a newcomer starting out with a relatively standard modified car is just as welcome as an experienced driver with a highly modified special car with the glamour that surrounds it. In fact experience has taught us that handled right the newcomer will grow in the championship and stay longer than the 'transient star'.
If you are still interested read on for more information about the current CNC Heads Sports/Saloon Championship.
Types of Cars and Class Structures
As mentioned above all cars that were originally designed for the road should be eligible for the championship. In order for all cars of differing modifications and engine size to be as competitive as possible cars are initially split into two groups :
Special Sports and Saloons - this group is for the more highly tuned and modified cars. Here engines are basically free, you can put any engine in you like and fit it anywhere in the car, front, rear or mid-engined. This year we even put in regulations for 'electrical regenerative power systems', though to date no one has entered one yet but we wait anxiously. Often bodies are married to chassis from a totally different source but that is fine as long as such things as wheelbase length and width are within certain tolerances of the original car (defined by the body) and that the seating is not central (prohibiting dropping a body on an old single seater). As far as numbers are concerned to be suitable for eligibility at least 25 of the original car must have been made - this prohibits several kit cars and 'one-off' specials. In all cases the car must have a side silhouette the same (within tolerances) as the car on which it is based.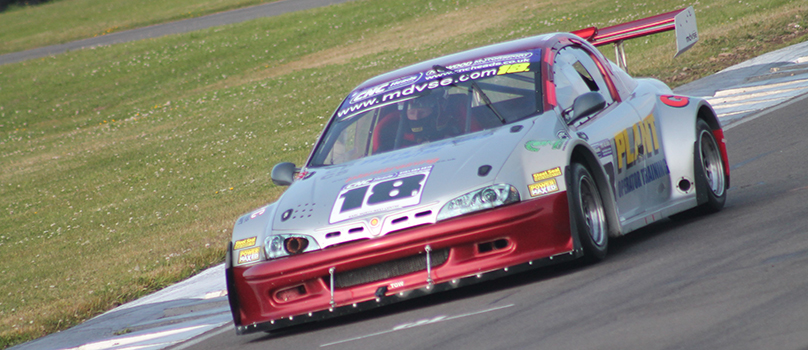 Luke Armiger's Vauxhall Tigra, a good example of a Special Saloon. (Photo : Peter Scherer)
Modified Sports and Saloons - this group is for the less modified and more standard cars, it is within this group that the inexperienced drivers usually start out though there are many experienced and long serving campaigners competing as well. Again all cars must be based upon cars designed originally for the road but now at least 250 must have been produced. Now the modifications allowed are much more restricted than in the Special classes, for example engines must be basically the same as on the original car and changes to bodywork, suspension and brakes are very limited. However, although the modifications are limited, many of the cars are quite sophisticated in what they can achieve. These classes are ideal to gain experience in.
So having split all the possible cars with the infinite amount of modifications, we have dealt with the problem of the engine sizes being vastly different giving differing performance levels by splitting each of the groups listed above into three classes based on engine capacity. Thus this gives us the six classes we race with today, and have for the last eleven years (and probably will for the foreseeable future) :
Class A - Special Sports and Saloons over 2500cc
Class B - Special Sports and Saloons 1601 - 2500cc
Class C - Special Sports and Saloons up to 1600cc
Class D - Modified Sports and Saloons over 2500cc
Class E - Modified Sports and Saloons 1601 - 2500cc
Class F - Modified Sports and Saloons up to 1600cc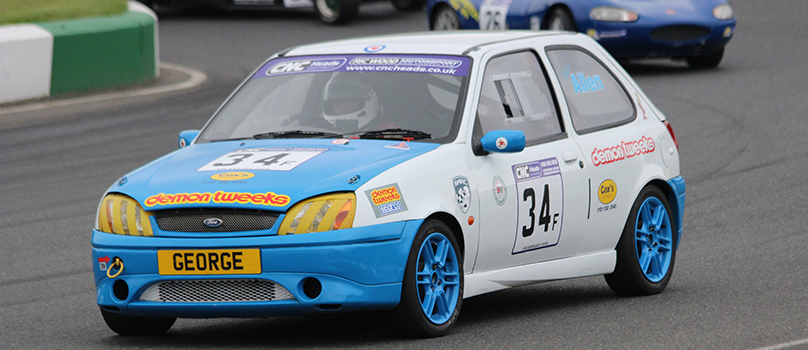 Helen Allen in her Class F Modified Ford Fiesta (Photo : John Leck)
Slightly different rules apply for cars with engines having forced induction and regenerative power units. All motorcycle engine cars are classified as Specials.
In order that competitors don't build cars as light as possible and potentially compromise safety there are weight limits across the classes, all Special cars irrespective of class must weigh at least 500kgs (excluding driver). For Modified cars the weight limits range from 590kgs for the smallest capacity cars up to 948kgs for the over 2500cc cars.
Remember also that all cars must comply with the general MSA regulations especially those covering safety issues.
Peter Gorrie explains more in the section below.
Eligibility
John has covered several major aspects of eligibility in his explanation of the regulations. As a previous driver I fully support the philosophy of the championship, namely to get as many cars as possible on track and racing. My main responsibility is to see that you do this safely and in compliance with the championship and MSA regulations. I believe in applying the regulations fairly and consistently so that everyone knows where they stand. I am a member of the Championship sub Committee and any opinions I have or suggestions which I make are considered by them and subject to their vote.
The place I start with eligibility is to find out if the car was first designed as a road car. This is not difficult with familiar mass produced cars but is a little more complicated with small manufacturers for example. In these situations I always contact the manufacturer and try to get solid evidence. This is where many drivers struggle to understand that a car first produced as a competition car and then followed by a homologated road version is not eligible. This keeps many supercars out which could ruin the championship!
It is a good idea to email or contact me to discuss eligibility before doing all the paperwork. I am happy to discuss any thoughts you may have in a positive but fair way.
As John has said, the specials classes allow you to do almost anything with your car. The silhouette requirements are minimal but it should be possible from them for a spectator to have a reasonable chance of recognising the production car shape! I believe that this encourages creative engineering by those who are keen to take on major projects.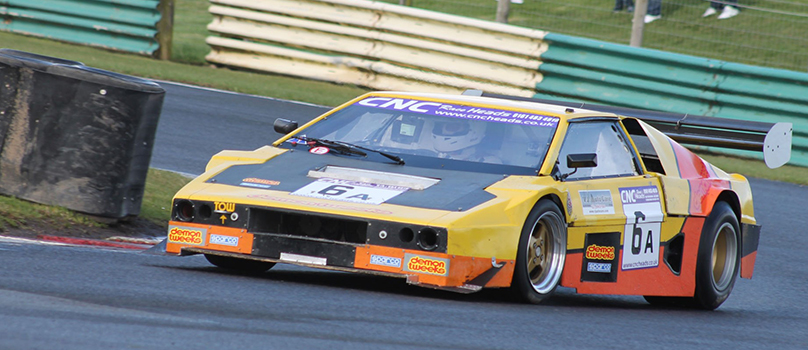 Simon Allaway's Chevrolet engined Lotus Esprit which won the championship in 2013 shows the silhouette of the original car. (Photo : Peter Scherer)
The modified classes provide a more straightforward and affordable route to building a racing car. I always apply the regulations carefully as many modifications are still allowed and some cars could almost be specials.
I am always happy to talk to drivers who wish to read between the lines of the regulations. If it is fair, legal and an example of creative thinking then I will support it. I am happy to travel a reasonable distance for the cost of the petrol to inspect any car whilst under build, in confidence if necessary, so that you have a good chance of turning up at the circuit with a legal car and not wasting your time on modifications which are not allowed.
Rule Changes
We have come to learn over the years that it is best to develop and enhance the championship with the drivers involved in the process. In the early years we held annual end of season meetings when potential technical and sporting changes were discussed and agreed. We often took suggestions from the meeting and introduced them the following year. However, as you can imagine, as the championship grew this became unwieldy and ever more acrimonious as driver was pitted against driver arguing details about potential changes (sounds like F1 is still operating that way!). In more recent times we have Drivers Representatives (and an active Eligibility Scrutineer) who discuss potential changes and thoughts with drivers and those with merit are discussed annually by the Championship Sub-Committee and where we see an advantage across the championship they will be adopted the following year. In addition any MSA regulation changes are discussed and communicated with drivers in advance of being published in the regulations. It is fair to say that any car racing today would have been eligible in every year of the championship and with only limited modifications (mainly for safety reasons) cars from the 1980's could run today (in fact some most definitely are!).
As far as the sporting regulations are concerned I can think of little change at all in the thirty years. All we have done is enhance them by introducing such things as the Joker round, double points, away points, prize money and rules about accepting entries when the grid is full. All these are hopefully for the benefit of all drivers.
Schedule of Events and Locations
Ever since we started this championship has been based in the North West area for obvious reasons. We started out looking for a championship to enhance the quality of the races at our North Western Centre organised meetings at Oulton Park (no Anglesey in those days - well no circuit anyway). We have not strayed from that principle over the years with the majority of events being run at Oulton Park and Anglesey. Unfortunately we don't run enough events at these circuits so each year we venture out to other circuits for our 'away' rounds. Being within the BARC umbrella we like, whenever we can, to support our HQ meetings (especially when we bring upwards of 30 cars) so in the majority of cases we race at HQ meetings several times a year. The circuits we visit vary depending on scheduling constraints but usually include a couple from Cadwell Park, Croft, Donington Park, Rockingham and now again Mallory Park. Over the years we have ventured further afield visiting such places as Pembrey, Thruxton, Knockhill and even many years ago several intrepid competitors went to Jurby, on the Isle of Man, for a non-championship outing. Every year a few hard-core drivers ask to go to Spa but for financial reasons this is out of the question so you will have to put up with Cascades, Corkscrew, Devils Elbow, McLeans, The Mountain rather than Eau Rouge and La Source!
In an attempt to keep costs down and with the blessing of most drivers we have over the last few years increased the number of double header race meetings, two races over the same weekend. Consequently we now usually have the standard 12 round championship spread over 7 race weekends.
Structure of an Event
We do little different to other National championships at a race weekend. Sometimes, but not very often there will be a free practice session that will not count towards qualifying. This will be followed by a qualification session of between 15 and 20 minutes depending on track length, from this the grid is formed. If we have a double header event then the grid for the second race is either formed from a second qualification session or from the second best time from the single qualification session. It is worth noting that if we have reserves (which is frequently the case these days) then these always qualify and then if there are 'no shows' or damaged/broken cars after qualifying then the reserves come forward in number order.
Races are these days of 20 minutes duration plus 1 lap. We run a safety car at most meetings which reduces the frequency of red flags and increases the track time. Only in extreme circumstances do we not get the full 20 minutes but this is usually due to unforeseen circumstances and time limitations on the day.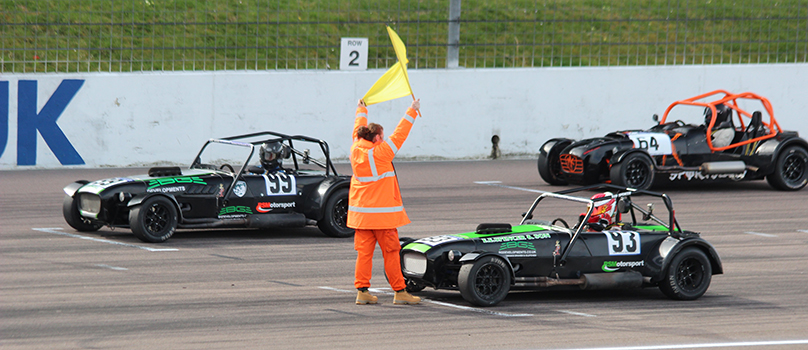 The starting grid at Rockingham early in 2015 with a selection of Locosaki cars at the sharp end (Photo : John Leck)
Costs Involved
Several years ago when registrations were falling we decided to reduce the costs of the championship as much as we could to encourage new registrations. To this end we removed the registration fee of £30 and also offered the loyalty bonus for those drivers who competed in at least 8 rounds before the last two rounds at Oulton. This bonus reduced the entry fee by about £170 for that last round. As far as entry fees are concerned we are tied to the standard ones imposed by HQ.
This year HQ gave championships the option to buy grids and charge their competitors what they liked and thus take the risk. With numbers above 25 on average over the last few years and over 32 last year we took the decision to buy the grids and take the risk in reducing the entry fees below the standard for the year. This means we will be charging the same fees as last year. We strive at all times to keep the costs as low as possible.
Awards and Points
We decided at the very beginning that prize money for class positions for each race was a non-starter, mainly because if we distributed the available money across the eighteen potential 'podium' members across all classes then each would get very little. It was felt better to give trophies out to the first three in each class, and over the years this has been well received by all drivers (except perhaps those who win each time out and have a loft of trophies!). At the end of season presentation dinner dance, The Real Night Out, cash awards are given to the first three in each class along with trophies.
Championship honours are based upon class positions with points only being awarded within classes and not for overall positions in each race. The actual allocations have not changed since the early days with points being awarded in each class as follows 1st - 6, 2nd - 4, 3rd - 3, 4th - 2 and all other finishers 1, with 1 for fastest lap. At the end of the season the driver with the highest number of points will be crowned champion. If there are less than 4 starters in a class then the points are reduced by 1 for every starter less than 4. In addition to these points drivers are awarded 3 points for competing at each away round (non Oulton Park), this was introduced several years ago to encourage drivers to venture away from Oulton Park.
Drivers can only count their ten best rounds (excluding away points) of the twelve rounds thus allowing each driver to miss a round or two and it not impact their chances of overall honours.
In order to ensure that the championship title is alive as long as possible we have always run the last round for double points. In addition each driver can nominate one round to be double points (their Joker Round), championships have been won and lost on the luck of playing Jokers!
In order to prevent competitors registering for the last round and taking points away from regular competitors a rule was introduced which states that in order to score points you must be registered by the fourth round. In these circumstances drivers are ignored in the results for points but can still receive trophies.
We have some additional trophies that are awarded for the following, David Gledhill Driver of the Year (voted for by the Marshals), Dave Simpson Trophy (for greatest class win at a specified meeting, Spirit of the Championship (awarded by the North West Committee), Newcomer of the Year and the newly presented Cam Forbes Memorial Trophy (for fighting spirit at an Anglesey meeting).
At the Real Night Out drivers who have started in at least nine rounds are presented with a 'starters' award for loyalty and when they reach 50 and 100 rounds additional trophies are presented.
Acceptance of Entries
Over the last half dozen years or so entries have been at their highest levels with many races having reserves and in some cases reserves for the reserves! There were instances where regular drivers were being bumped off the grid simply because their entry was not in early enough, resulting in some cases with drivers coming lower in the championship. In order to ease this situation it was decided to amend the acceptance of entry rule. Now all entries are taken up to the 'Grid Acceptance Date' which is ten days before the meeting and at that point entries are accepted with priority given based upon number of races already entered. In addition two grid slots are given to newcomers based on date of entry.
Main Contacts
Supporting the championship are a number of people who will help you with any problems you may have.
John Leck - Championship Co-Ordinator and general administration person. John administers the championship and anything to do with registrations, entries, points and anything to do with the Sporting regulations. In fact contact John for anything other than the Technical Regulations and anything specific to the actual racing. If he can't answer rest assured he will know someone who can.
Peter Gorrie - Eligibility Scrutineer and technical person. Peter is the guy to contact if you want to check that your car is eligible or have any technical questions. Peter has a wealth of knowledge and will be able to answer any questions and if he can't he will find the answer and get back to you.
Duncan Aukland, Peter Davies and Simon Allaway - Drivers Representatives. These three experienced championship competitors will help you with any racing specific questions. There will usually be two of them at most meetings with Duncan having the responsibility for trophies, results and decals. They are also always talking to drivers about potential changes to the regulations for future years and raising any issues to the Championship sub-committee for discussion.
David Williams - Permanent Championship Clerk - David is the Clerk for all our rounds which gives us consistency in decision making at all races. If you have any specific questions regarding the actual race or qualifying then David is your man. Mind you after racing you don't want to be in the position of being summoned to see for some misdemeanour!
Championship Sub-Committee- John, both Peters, Duncan, Simon and our Centre Chairman Ray Sumner constitute the Sub-Committee and they make all the decisions regarding the Sporting and Technical regulations, dates etc.
Championship Stewards- Three skilled racing people with considerable experience in all forms of motor racing. These individuals will meet if there is any serious situation that can't be dealt with by the championship personnel. So far they have never been needed.
In addition to these Centre members helping with advice and guidance we also operate a 'Buddy' system for new drivers to motor racing. It can be a daunting proposition getting everything ready for your first race, there is so much to consider - is the car ready, will it pass scrutineering, where is everything at the circuit, what paperwork do I need to bring, what happens if I have a problem, do I have to go to any meetings or briefings. In order to help new drivers they can, if they wish ask for a 'Buddy' to be allocated so that they can ask this person all the questions they may have and in all likelihood they will be at the circuit for the new drivers first few races so can help on the day. Several new drivers over the years have taken up this offer and benefitted from it. One thing the 'Buddy' will not do is give you advice as to how to race and win, though they will advise on the etiquette adopted on the track.
Interested -- How do you join us?
If having read all the above information and you think the championship is for you then please come along and join in the fun. In order to do this can I suggest the following plan of actions :
Download all the Championship documentation from the website including the latest set of regulations, or alternatively send John Leck an e-mail and he will forward them to you.
Read the regulations in relation to the vehicle you want to race and confirm that it is eligible. If in any doubt then Peter Gorrie is the person to contact and he will answer all your questions.
Possibly come along to one of our meetings and talk to the drivers, Peter and myself.
Complete the Driver Registration Form and the Driver and Vehicle Information sheet and return them to John Leck.
Complete the Vehicle Specification sheet and return to Peter Gorrie.
At this point Peter and John will check the documentation and confirm eligibility.
John will register you for the championship and set you up on the BARC on line entry system as registered for the Championship. If you are new to the BARC and not already on the system (as a driver) then it is up to you to register on the system and request the CNC Heads Championship.
John will confirm your registration and you will probably get an automatic e-mail from the on line system as well. In this confirmation from John you will be given the competition number for the year (you can request one when registering) and confirm your class.
In addition in this confirmation you will be sent an entry form covering the season and information as to how to enter (either using the attached form or via the on line system which is by far the easiest).
Championship decals will be sent in the following couple of days.
Then it is simply up to you to enter the rounds you want to compete in and come race with us.